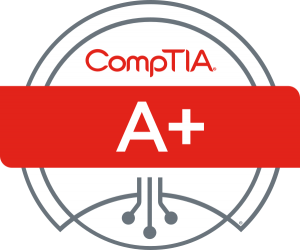 CompTIA A+ is the industry standard for establishing a career in IT.
CompTIA A+ is the foundation of your IT career
CompTIA A+ is the preferred qualifying credential for technical support and IT operational roles. It is about much more than PC repair.
Candidates are better prepared to troubleshoot and problem solve.
Technicians understand a wide variety of issues ranging from networking and operating systems to mobile devices and security.
A+ supports the ability to connect users to the data they need to do their jobs regardless of the devices being used.
9 skills that you master and validate with CompTIA A+
 HARDWARE
Identifying, using, and connecting hardware components and devices.
 WINDOWS ​OPERATING SYSTEMS
Install and support Windows OS including command line & client support.
 SOFTWARE TROUBLESHOOTING
Troubleshoot PC and mobile device issues including application security support.
 NETWORKING
Explain types of networks and connections including TCP/IP, WIFI and SOHO.
 HARDWARE & NETWORK TROUBLESHOOTING
Troubleshoot device and network issues.
 SECURITY
Identify and protect against security vulnerabilities for devices and their network connections.
 MOBILE DEVICES
Install & configure laptops and other mobile devices.
 OTHER OS & TECHNOLOGIES
Understand Mac OS, Linux and mobile OS.
 OPERATIONAL PROCEDURES
Follow best practices for safety, environmental impacts, and communication and professionalism.
Exam Details
Exam Codes
CompTIA A+ 220-901 and 220-902
(Academy customers use the same codes)
Launch Date
December 15, 2015
Exam Description
CompTIA A+ 220-901 covers PC hardware and peripherals, mobile device hardware, networking and troubleshooting hardware and network connectivity issues.

CompTIA A+ 220-902 covers installing and configuring operating systems including Windows, iOS, Android, Apple OS X and Linux. It also addresses security, the fundamentals of cloud computing and operational procedures.
View the CompTIA A+ 900 FAQ page.

Number of Questions
Maximum of 90 questions per exam
Type of Questions
Multiple choice questions (single and multiple response), drag and drops and performance-based
Length of Test
90 Minutes per exam
Passing Score
220-901: 675 (on a scale of 900)
220-902: 700 (on a scale of 900)
Recommended Experience
9 to 12 months hands-on experience in the lab or field
Languages
English, German, Japanese, Portuguese, French and Spanish (Modern)
Retirement
TBD – Usually three years after launch
Price
$211 USD per exam (See all pricing)