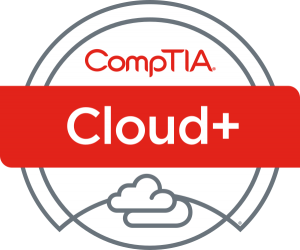 CompTIA Cloud+ shows you have the expertise needed for data center jobs.
CompTIA Cloud+ validates the skills you need to maintain and optimize cloud infrastructure services.
Cloud+ covers the increased diversity of knowledge, skills and abilities required of system administrators to validate what is necessary to perform effectively in data center jobs.
CompTIA Cloud+ views cloud-based infrastructure services as an increasingly important piece of an organization's IT systems.
It is the only vendor-neutral, performance-based certification covering more than a specific vendor or a single function like security or networking to help you better realize the return on investment of cloud infrastructure services.
CompTIA Cloud+ (CV0-001) is retiring August 1, 2018 (English version only)
The new CompTIA Cloud+ (CV0-002) exam is available now. More information on both versions of the exam is available in the Exam Details below.
What Skills Will You Learn?
 Configurations & Deployment
Analyze system requirements to successfully execute workload migrations to the cloud.
 Management
Determine proper allocation of cloud resources and apply necessary changes based on performance data.
 Maintenance
Apply appropriate technologies and processes, including automation and orchestration, to ensure desired system performance.
 Security
Implement appropriate security controls given requirements.
 Troubleshooting
Troubleshoot capacity, automation, connectivity and security issues related to cloud implementations.
Exam Details
Exam Codes
CV0-002
CV0-001 
Launch Date
February 9, 2018
Exam Description
CompTIA Cloud+ (CV0-002) reflects an emphasis on incorporating and managing cloud technologies as part of broader systems operations. It assumes a candidate will weave together solutions that meet specific business needs and work in a variety of different industries.

It includes the new technologies to support the changing cloud market as more organizations depend on cloud-based technologies to run mission critical systems, and hybrid and multi-cloud have become the norm.

CompTIA Cloud+ covers competency in cloud models, virtualization, infrastructure, security, resource management and business continuity.

Familiarity with any major hypervisor technologies for server virtualization is recommended.

​

Number of Questions
90 questions
100 questions
Type of Questions
Performance-based and multiple choice
Multiple choice
Length of Test
90 Minutes
90 Minutes
Passing Score
750 (on a scale of 100-900)
750 (on a scale of 100-900)
Recommended Experience
2-3 years in system administration
24 to 36 months of work experience in networking, storage or IT data center administration. Familiarity with any major hypervisor technologies for server virtualization.
Languages
English
English, Japanese
Retirement
Usually three years after launch
English ​​retires: August 1, 2018
​Japanese ​retires: TBD.
Price
$302 USD (See all pricing)
$302 USD (See all pricing)