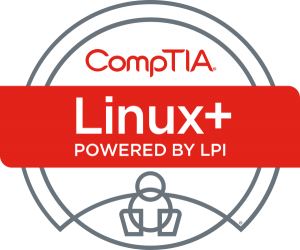 CompTIA Linux+ validates the competencies required of an early career system administrator supporting Linux systems.
Unlike vendor-specific certifications, CompTIA Linux+ covers multiple distributions, validating skills that help prevent platform lock-in and that promote more flexible approaches to Linux system troubleshooting.
System configurationAfter passing the two exams required for certification, candidates will have mastered the following concepts:
The command line interface
Scripting basics
Network settings and services
System security
What Skills Will You Learn?
 SYSTEM ARCHITECTURE
Determine and configure hardware settings and boot the system.
 LINUX INSTALLATION & PACKAGE MANAGEMENT
Design and manage the hard disk and libraries.
 GNU & UNIX COMMANDS
Work on the command line to manage files and processes.
 DEVICES, LINUX FILESYSTEMS, FILESYSTEM HIERARCHY STANDARD
Create and manage partitions and filesystems.
 SHELLS, SCRIPTING & DATA MANAGEMENT
Write scripts and perform basic SQL data manipulation.
 USER INTERFACES & DESKTOPS
Install and configure X11 and set up display managers.
 ADMINISTRATIVE TASKS
Manage user accounts and groups and automate system administration.
 ESSENTIAL SYSTEM SERVICES
Maintain and configure systems, and manage printing.
 NETWORKING FUNDAMENTALS
Configure and troubleshoot system network settings and services, and configure client side DNS.
Exam Details
Exam Codes
LX0-103
LX0-104
Exam Description
CompTIA Linux+ covers common tasks in major distributions of Linux, including the Linux command line, basic maintenance, installing and configuring workstations, and networking. Linux+ is comprised of two exams – LX0-103 and LX0-104. Candidates must pass LX0-103 before taking LX0-104.
Number of Questions
60 questions
60 questions
Type of Questions
Multiple Choice (Single Response), Multiple Response and Fill-in-the-Blank
Multiple Choice (Single Response), Multiple Response and Fill-in-the-Blank
Length of Test
90 Minutes
90 Minutes
Passing Score
500 (on a scale of 200 to 800)
500 (on a scale of 200 to 800)
Recommended Experience
CompTIA A+, CompTIA Network+ and 12 months of Linux admin experience
CompTIA A+, CompTIA Network+ and 12 months of Linux admin experience
Languages
English, German, Portuguese, Spanish
English, German, Portuguese, Spanish
Price
$206 USD (See all pricing)
$206 USD (See all pricing)