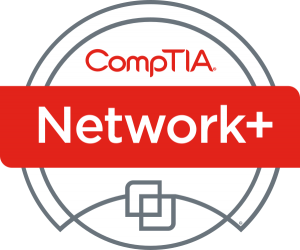 CompTIA Network+ helps develop a career in IT infrastructure covering troubleshooting, configuring, and managing networks.
Network+ ensures an IT professional has the knowledge and skills to:
Design and implement functional networks
Configure, manage, and maintain essential network devices
Use devices such as switches and routers to segment network traffic and create resilient networks
Identify benefits and drawbacks of existing network configurations
Implement network security, standards, and protocols
Troubleshoot network problems
Support the creation of virtualized networks
CompTIA Network+ (N10-006) English retires 8/31/18; Other languages retire 1/31/19.
The new CompTIA Network+ N10-007 exam is available as of March 2018. More information on both versions of the exam is available in the Exam Details below.​
What Skills Will You Learn?
 Networking Concept
Explain the purpose of a variety of networking concepts and implement them appropriately.
 Infrastructure
Determine & explain the appropriate cabling, device and storage technologies.
 Network Operations
Use best practices to manage the network, determine policies & ensure business continuity.
 Network Security
Summarize physical security & common attacks while securing the wired and wireless network.
 Network Troubleshooting & Tools
Explain the network troubleshooting methodology & appropriate tools to support connectivity & performance.
Exam Details
Exam Codes
N10-007 
N10-006 
Launch Date
March 2018
February 2015
Exam Description
CompTIA Network+ N10-007 has been updated and reorganized to address the current networking technologies with expanded coverage of several domains by adding:

Critical security concepts to helping networking professionals work with security practitioners
Key cloud computing best practices and typical service models
Coverage of newer hardware and virtualization techniques
Concepts to give individuals the combination of skills to keep the network resilient

CompTIA Network+ covers the configuration, management, and troubleshooting of common wired and wireless network devices. Also included are emerging technologies such as unified communications, mobile, cloud, and virtualization technologies.
Number of Questions
Maximum of 90 questions
Maximum of 90 questions
Type of Questions
Multiple Choice Questions (single and multiple response), drag and drops and performance-based
Multiple Choice Questions (single and multiple response), drag and drops and performance-based
Length of Test
90 Minutes
90 Minutes
Passing Score
720 (on a scale of 100-900)
720 (on a scale of 100-900)
Recommended Experience
CompTIA A+ Certification and At least 9 to 12 months of networking experience
CompTIA A+ Certification and (9) months of networking experience
Languages
English
In Development: Japanese, German, Spanish, Portuguese
English, German, Japanese, Spanish, French, Arabic
Retirement
Usually three years after launch
English retires 8/31/18; Other languages retire 1/31/19
Price
$302 USD (See all pricing)
$302 USD (See all pricing)