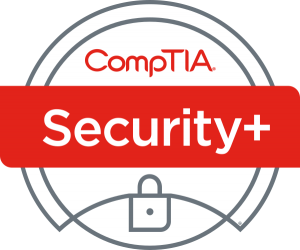 CompTIA Security+ is a global certification that validates the baseline skills you need to perform core security functions and pursue an IT security career.
Why is it different?
No other certification that assesses baseline cybersecurity skills has performance-based questions on the exam. Security+ emphasizes hands-on practical skills, ensuring the security professional is better prepared to problem solve a wider variety of issues.
More choose Security+ for DoD 8570 compliance than any other certification.
Security+ focuses on the latest trends and techniques in risk management, risk mitigation, threat management and intrusion detection.
The new Security+ certification covers the Junior IT Auditor/Penetration Tester job role, in addition to the previous job roles for Systems Administrator, Network Administrator, and Security Administrator.
About the exam
CompTIA Security+ (SY0-401) exam retiring July 31.
CompTIA Security+ is the first security certification IT professionals should earn. It establishes the core knowledge required of any cybersecurity role and provides a springboard to intermediate-level cybersecurity jobs. Security+ incorporates best practices in hands-on trouble-shooting to ensure security professionals have practical security problem-solving skills. Cybersecurity professionals with Security+ know how to address security incidents – not just identify them.

The new CompTIA Security+ SY0-501 exam is available as of October 4, 2017. More information on both versions of the exam is available in the Exam Details below.Security+ is compliant with ISO 17024 standards and approved by the US DoD to meet directive 8140/8570.01-M requirements.
What Skills Will You Learn?
 THREATS, ATTACKS & VULNERABILITIES
Detect various types of compromise and have an understanding of penetration testing and vulnerability scanning concepts.
 TECHNOLOGIES & TOOLS
Install, configure, and deploy network components while assessing and troubleshooting issues to support organizational security.
 ARCHITECTURE & DESIGN
Implement secure network architecture concepts and systems design.
 IDENTITY & ACCESS MANAGEMENT
Install and configure identity and access services, as well as management controls.
 RISK MANAGEMENT
Implement and summarize risk management best practices and the business impact.
 CRYPTOGRAPHY & PKI
Install and configure wireless security settings and implement public key infrastructure.
Exam Details
Exam Codes
SY0-401
 SY0-501
Launch Date
May 1, 2014
 October ​4, 2017
Exam Description
The CompTIA Security+ exam will certify the successful candidate has the knowledge and skills required to install and configure systems to secure applications, networks, and devices; perform threat analysis and respond with appropriate mitigation techniques; participate in risk mitigation activities; and operate with an awareness of applicable policies, laws, and regulations. The successful candidate will perform these tasks to support the principles of confidentiality, integrity, and availability.
Number of Questions
Maximum of 90 questions
Type of Questions
Multiple choice and performance-based
Length of Test
90 minutes
​
Passing Score
750 (on a scale of 100-900)
Recommended Experience
CompTIA Network+ and two years of experience in IT administration with a security focus
Languages
English, Japanese, Portuguese and Simplified Chinese.
English (Japanese, Portuguese and Simplified Chinese estimated Q2 2018)
Retirement
English retirement: July 31, 2018;
Japanese, Portuguese and Simplified Chinese: December 15, 2018
Usually three years after launch
Price
$330 USD (See all pricing)