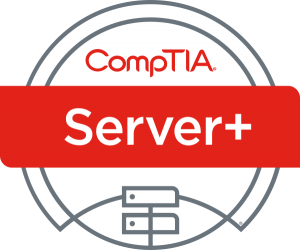 CompTIA Server+ ensures pros have the skills to work in data centers or cloud environments.
CompTIA Server+ certified candidates can work in any environment because it is the only vendor-neutral certification covering the major server platforms. It is the only industry certification that covers the latest server technologies including virtualization, security and network-attached storage.
VirtualizationCompTIA Server+ certification validates the skills necessary to be a server administrator. Successful candidates will have mastered the following concepts:
Storage
Security
Troubleshooting
What Skills Will You Learn?
 SERVER ARCHITECTURE
Understand, configure and support server components.
 SERVER ADMINISTRATIONS
Manage and maintain servers, including OS configuration, access control and virtualization.
 STORAGE
Support storage devices technologies, including capacity and growth planning.
 SECURITY
Apply physical and network data security techniques.
 NETWORKING
Configure systems for network connectivity, including physical and logical elements.
 DISASTER RECOVERY
Understand disaster recovery and implement backup techniques.
 TROUBLESHOOTING
Diagnose and resolve system hardware, software, connectivity, storage and security issues.
Exam Details
Exam Codes
 SK0-004
Launch Date
July 31, 2015
Exam Description
Server+ covers server architecture, administration, storage, security, networking, troubleshooting as well as disaster recovery.
Number of Questions
 100 questions
Type of Questions
 Multiple choice
Length of Test
 90 Minutes
Passing Score
 750 (on a scale of 100-900)
Recommended Experience
A+ Certification
Individuals with 18 to 24 months of IT experience
Languages
English, Chinese, Japanese
Retirement 
TBD
Price
$302 USD (See all pricing)