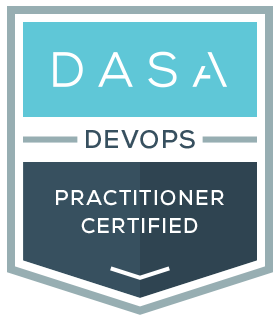 Builds upon the DASA DevOps Fundamentals qualification. The key focus of DevOps Practitioner is on the 4 skill areas required for successful DevOps results.
The DASA DevOps Practitioner course prepares candidates for the Practitioner qualification. It is designed to provide the core education necessary to put DevOps into practice. With the help of DevOps theory, pragmatic examples and exercises, and interactive group discussions, the course will help you understand how to apply the necessary skills to practice DevOps.
How Does DevOps Practitioner Fit into the DASA Competence Framework?
After completing this course, you will cover the area marked as DevOps Practitioner in the following figure of the DASA qualification scheme. As a result, you will reach the "Proficient" level of the scheme.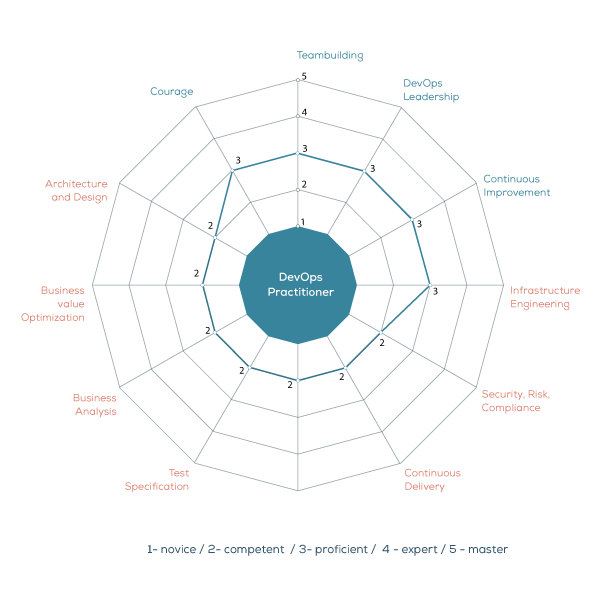 Skill Areas
Courage: Evangelism, coaching, self-confidence, proactivity, reflection, trust, open discussions, experimentation, fail fast, courage to change.

Teambuilding

: Understand the other's point of view, collaboration, mutual accountability, common purpose, ability to integrally support the service/product.
DevOps Leadership: Facilitating teams to high performance, humility, transparency, Service lifecycle mindset, Stakeholder management.
Continuous improvement: Today we do our work better than yesterday, kaizen mindset, quality at the source, first time right, knowledge-sharing, ability to adapt.
Knowledge Areas
Business Value Optimization: Use of the IT service in real life, including direct feedback loop of user comments to team, service level management, definition of done, business activity/performance monitoring, business case management.
Business Analysis: Functional requirements, non-functional requirements, longer term development of business process (based on translation of market developments), data analysis, and refinement.
Architecture & Design: Ensuring fit between developments and current situation, overall service design, patterns & styles.
Programming: Software engineering mastery, everything as code, data management.
Continuous Delivery: Automated testing, deployment and release management, configuration management, version control, cloud, containerization, feature-driven delivery.
Test Specification: Design of test cases, test concepts.
Infrastructure Engineering: Technical monitoring, performance management (e.g load balancing etc.), capacity and availability management, reliability engineering, cloud, containerization.
Security, Risk & Compliance: Security, service continuity planning.
Learning Objectives
When you have acquired the required knowledge from this course, you will be able to:
Explain the importance of DevOps culture and the aspects that can influence it.
Explain why courage, team building, leadership, and continuous improvement are required in a DevOps environment.
Explain why courage is essential to enable trust, honesty, and experimentation.
Identify and evaluate different types of behavior in a DevOps environment.
Recognize the signals indicating impediments and/or team dysfunctions.
Describe how to form good DevOps teams.
List the effects of happiness and motivation on team performance.
Assess the maturity of DevOps teams.
Identify how leaders encourage feedback and transparency.
Discuss the factors that leaders can influence to build trust.
Explain how and why leaders promote a "Safe to fail" environment.
Analyze value streams to improve throughput and flow.
Facilitate the tools for continuous improvement: structured problem-solving workshops, Story Mapping sessions, and retrospectives.
Audience
Individuals involved in IT development, IT operations, or IT service management.
Individuals whose role are affected by DevOps and continuous delivery, such as:

DevOps Engineers.
Product Owners.
Integration Specialists.
Operations Managers.
Incident and Change Managers.
System Sdministrators.
Network Administrators.
Business Managers.
Automation Architects.
Enterprise Architects.
Testers.
Course Requirements
Required: DASA DevOps Fundamentals certificate.
Beneficial: Basic familiarity with Agile, Scrum, Lean, and ITSM principles.