The DevOps Practitioner Qualification Demonstrates Mastery of the Skills Necessary to Operate Successfully in any DevOps Team.
DASA DevOps Practitioner
| Course | Delivery |
| --- | --- |
| DASA DevOps Practitioner | Classroom, Virtual Classroom |
| DevOps Practitioner + The Phoenix Project | Classroom, Simulation |
The DevOps Practitioner courseware builds on the Fundamentals certification which provides the core vocabulary and understanding of DevOps principles. With this core set of knowledge in hand, the DevOps Practitioner certification allows professionals to demonstrate their leadership skills, the ability to act with courage, improve themselves every day, and work in concert with their peers.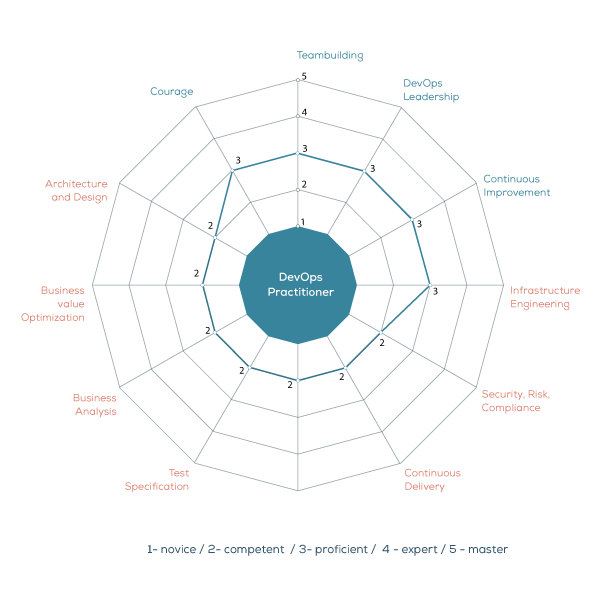 DevOps Practitioner is for those craftsmen who want to demonstrate mastery of their art.
The key focus of DevOps Practitioner is on the four skill areas that have been defined by DASA and are required for successful DevOps results. The course helps you know why the four skills: courage, teambuilding, leadership, and continuous improvement, are the necessary skills for a DevOps environment.
Leadership
DevOps Practitioners create purpose, they understand the needs of everyone in the team, build a culture of failing fast, learning fast and improving fast and share successes.
Courage to Act
DevOps Practitioners create a culture of trust and honesty that encourages experimentation, sharing feedback and collaboration.
Teamwork
DevOps Practitioners operate as a cohesive team, and take end to end responsibility for the lifecycle of the products they support.
Continuous Improvement
DevOps Practitioners optimize their resources to build optimal flow. They have a Kaizen mindset and achieve improvements every day.